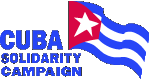 On Tuesday 27 October, the United Nations General Assembly voted by 191-2 in support of a resolution calling for the end to the US blockade of Cuba.
Only the United States and Israel voted against all 191 other member states of the United Nations, in what marked the largest majority in favour of Cuba in the 24 year history of the annual votes against the blockade. Although the vote is non-binding, it sent a clear message to the United States government that it remains isolated from the rest of the world in its policy towards Cuba.
Despite the fact that Cuba and the US have re-established diplomatic relations, the United States continues its 54 year old blockade against the island which the Cuban Foreign Minister, Bruno Rodriguez, said had cost the island US$833.8 billion over the last five decades.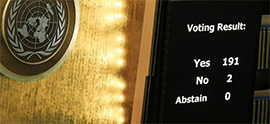 •
Bruno Rodriguez's full speech to the United Nations
•
Watch the full debate and vote in English
•
Read the UN report of the debate and contributions from other international representatives
•
Cuba's 2015 report to the UN on the effects of the blockade
SUPPORT CUBA, JOIN THE CAMPAIGN TO END THE BLOCKADE TODAY