The Guardian avslöjar
De 20 bolagen på listan står bakom 35 procent av koldioxidutsläppen, totalt 480 miljarder ton sedan 1965.
De fyra mest destruktiva företagen är de privatägda Chevron, Exxon, BP och Shell som står för 10 procent av jordens koldioxidutsläpp.
Tolv av företagen är statsägda. Den största förorenaren av dem är Saudiarabiens Aramco.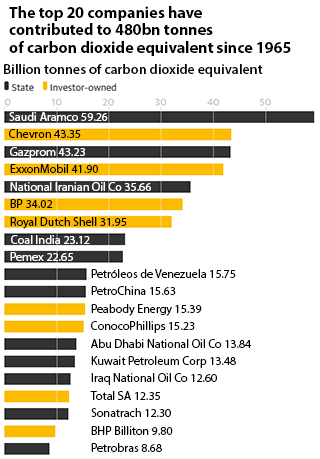 Guardian graphic | Source: Richard Heede,
Climate Accountability Institute. Note: table includes emissions for the period 1965 to 2017 only
Michael Mann,
en av världens ledande klimatforskare, säger:
"Klimatkrisens stora tragedi är att sju och en halv miljon människor tvingas betala priset – i form av en fördärvad planet – för att ett dussin polluting interests, föroreningsintressenter, ska kunna fortsätta att göra rekordvinster."

Den senaste studien
bygger på en undersökning från 2017 som konstaterade att de 90 största koldioxidproducenterna var ansvariga för hälften av jordens temperaturhöjning och en tredjedel av havsnivåhöjningen.
"Dessa företag och deras produkter är ansvariga för en substantiell del av klimatkatastrofen, har kollektivt förhindrat nationella och globala åtgärder i årtionden och kan inte längre gömma sig bakom rökridån att det är konsumenternas ansvar."
Den offentliga och politiska klimatdebattens fokus måste flyttas från det individuella ansvaret till de strukturella och ekonomiska orsakerna.

De fem största olje-
och gasbolagen spenderar årligen
200 miljoner dollar
på lobbyverksamhet för att försena, kontrollera och förhindra åtgärder mot klimatuppvärmningen.

Läs hela artikeln i The Guardian »