Turkiets president Erdogan bekräftar: Bombningarna av norra Syrien har inletts
Presidenten skriver på Twitter att turkisk militär tillsammans med syriska rebellstyrkor har inlett offensiven mot "PKK-, YPG- och IS-terrorister" som går under namnet "Fredens vår".
Enligt representanter för kurdiska styrkor i nordöstra Syrien har turkiska stridsflygplan attackerat flera mål, även civila, på flera platser i nordöstra Syrien.

The Turkish Armed Forces, together with the Syrian National Army, just launched
#OperationPeaceSpring
against PKK/YPG and Daesh terrorists in northern Syria. Our mission is to prevent the creation of a terror corridor across our southern border, and to bring peace to the area. 3:16 PM · Oct 9, 2019
---
Några kommentarer från Facebook och Twitter

Bra gjort av Finland att stoppa all vapenexport till Turkiet samt fördöma attcken mot kurderna i Syrien. Dags för Sverige att fatta samma kloka beslut.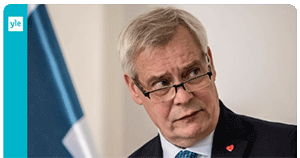 För bara tre veckor sedan godkände regeringen drönarexport till Turkiet, men nu stoppar Finland all vapenexport till landet. Samtidigt fördömer regeringen den turkiska attacken mot Syrien.
– Situationen är allvarlig. För mitt eget ansvarsområde konstaterar jag följande: Finland exporterar inte försvarsmateriell till länder som krigar eller kränker de mänskliga rättigheterna, skriver försvarsminister Antti Kaikkonen på Twitter.
– I nuläget kommer inga nya vapenexportlicenser från Finland till Turkiet att beviljas.
KURDERNA HAR INGA VÄNNER UTOM BERGEN
Återigen

visar sig det gamla ordstävet att kurderna har "inga vänner utom bergen" stämma. Det kurdiska folket har ständigt genom historien blivit svikna och förrådda av stormakter och använda som redskap i andras maktspel. Och nu utsätts kurder för ett nytt svek och förräderi. Och omvärlden låter det i praktiken ske.
Ulf Nymark på Facebook
Inga vänner utom bergen
är också titeln på Ingmar Karlssons högintressanta bok om kurdernas historia. Historiska media, 2018)