Det är inte det direkta förnekandet av klimatvetenskapen utan det faktum att många beslutsfattare som erkänner klimatkrisen agerar som om den inte existerade.
I förra numret av VB gavs många exempel hämtade från den nyutgivna boken
Upphettning.
Där kallas sådant agerande
responsförnekelse.
Det jämförs med Orwells begrepp nyspråk: krig är fred.
The Guardian (22/2) ger ännu ger ett flagrant exempel i artikeln
As Nobel prize winners we demand Justin Trudeau stop The Teck Frontier Mine.
Det handlar om en tjärsandsgruva. Bland undertecknarna finns tio nobelpristagare i kemi och litteraturpristagarna John Coetzee, Elfriede Jelinek och Alice Munro.
Samma dag publicerades
JP Morgan economists warn climate crisis is threat to human race.
JP Morgan är världens största finansiär av fossila bränslen och har efter Paris-avtalets undertecknande satsat 75 biljoner dollar på de bolag som expanderar mest aggressivt i sektorer som fracking, arktisk olja och gas.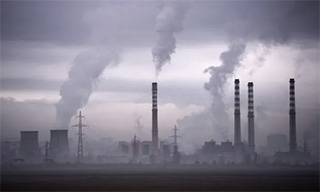 I rapporten konstaterar ekonomerna att om man fortsätter den ekonomiska politiken som tidigare kommer jorden hamna i en situation där den inte befunnit sig på flera miljoner år.
De skriver att klimat-upphettningen är "ett globalt marknadsmisslyckande som innebär att producenter och konsumenter av CO2-utsläpp inte betalar för de klimatskador som uppstår."
Sydsvenskan publicerade 25/2 en stor intervju med en av författarna till
Upphettning,
Kjell Vowles, under rubriken "
Därför förnekar vissa människor klimatkrisen
". Artikeln som skrivits av Daniel Rydén är upplysande och pedagogisk. En kategori av klimatförnekare som nog är vanligt förekommande i Lund är "högutbildade äldre män som haft framgångsrika karriärer inom akademin eller industrin."