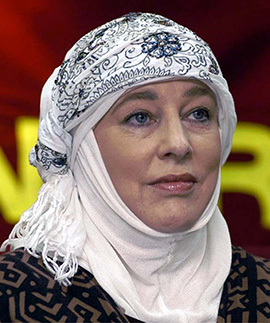 Frågar sig Yvonne Ridley i en artikel den 18 November i Middle East Monitor. Hon använder sig bl.a. av Margot Wallströms uttalanden i svenska media nyligen, där hon inbegriper palestiniernas hopplösa situation i rötterna till dagens terrorattacker i Europa. Här följer artikeln i sin helhet.
Artikeln återfinns i
Middle East Monitor

In the aftermath of the 9/11 atrocities, the then US President George W Bush convinced his fellow Americans that revenge was the only way to respond, and so he unleashed his never-ending War on Terror. No one stopped to ask why the attacks in New York and Washington took place, and the resultant retaliation was justified by primitive rhetoric that could have come straight from the script of a Spaghetti Western.
Thus, when French President François Hollande, regarded until now as more of a dove than a hawk, described last week's
terror attack in Paris
to be "an act of war" by Daesh there was surprise and dismay in equal measures. Syria has been bombed several times by France since Friday and
other NATO countries are being urged to join
the French and American air raids on so-called key Daesh targets. So far, so predictable.
However, at least one European country appears to be resisting the battle cries; step forward non-NATO Sweden. Not only is the Scandinavian country stepping back, analysing and evaluating the fallout from the horrors of the attack on Paris last week, but its foreign minister has also broken ranks in the international community to draw a link between the ongoing
injustices imposed on the Palestinian people by Israel and the carnage wreaked upon the French capital
.
Margot Wallström told television network
SVT2T
that the hopelessness of the Palestinian people was a factor which could not be ignored. Asked if she was worried about the radicalisation of young Swedes who might join Daesh, the foreign minister replied, "Obviously, we have reason to be worried, not just in Sweden but across the world, because there are so many that are being radicalised. Here, once again, we are brought back to situations like the one in the Middle East, where not least, the Palestinians see that there is not a future. We must either accept a desperate situation or resort to violence."
Later, on Facebook, she called for people to "search for the causes of extremism before starting to fight it."
Predictably,
Tel Aviv was outraged by the comments
and promptly summoned the Swedish ambassador to lodge a protest over Wallström's remarks. Yesterday, spokesman Emmanuel Nachshon described the Swede's comments as "ridiculous in their rudeness" before adding, "The Swedish foreign minister is systematically biased, hostile and one-sided against Israel when she points to the connection between the attacks in Paris and difficulties between Israel and the Palestinians." A brutal, decades-long military occupation and colonisation is thus reduced to "difficulties".
The reaction to Wallström's words remind us of Danish author Hans Christian Andersen's short story "The Emperor's New Clothes" about a vain and arrogant ruler who hires two weavers to make him the finest suit of clothes ever worn. They convince him they've made a fabric so luxurious that only the stupid or incompetent can't see it. As the emperor steps out in public, everyone goes along with the pretence, not wanting to appear foolish, until a child too young to understand, blurts out that the emperor is naked. The child's simple declaration is then echoed by the crowd in this cautionary tale.
Wallström is neither foolish nor incompetent; she has simply called it as she sees it and, rather than being admonished, surely it would be more sensible to investigate the merits of what she has said. What's more, Sweden is not alone in its refusal to give unconditional support to Israel. Earlier this week, the South African Police Service issued arrest warrants for four Israeli commanders who were deemed to be responsible for the attacks on the Mavi Marmara in 2010. The ship was part of a flotilla of vessels heading for Gaza to break the Israeli siege and deliver humanitarian aid and medical supplies. Spain, meanwhile, appears to have gone one step further after its legal authorities
issued an arrest warrant for Israeli Prime Minister Benjamin Netanyahu.
As the drums of war in Syria beat ever louder perhaps European leaders should investigate Wallström's comments further regarding the lack of equality and justice meted out to Palestinians by the Israelis. To dismiss her comments out of hand would be an act of arrogance which could leave them as exposed as that foolish emperor.
The Middle East needs fixing
urgently
and four consecutive US presidents who've bombed the hell out of the region have simply made matters worse. It is time for a new strategy, and since the Middle East fault lines all begin in Palestine that would be a good place to start. To ignore Margot Wallström and continue to bomb Syria blindly — with inevitable civilian casualties — exposes us all to even more danger, wherever in the world we happen to live. If the question is simply what do we do about terrorism and extremism, then maybe, as the Swedish foreign minister suggests, Palestine is where we will find the answer.