Solidaritet är en väldigt fin gåva. Missa därför inte att Ship to Gaza har en webbshop där man kan köpa julklappar.
https://shop.shiptogaza.se/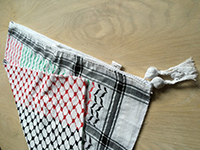 Vi har precis fått in en ny omgång palestinasjalar som några av våra medlemmar själva hämtat direkt från fabriken i Hebron, Västbanken. Massa olika färger förutom den traditionella vit/svarta.

Andra nyheter är pins och t-shirts för 2018 års kampanj
Armada for Gaza
- Armed with peace and solidarity. Väldigt snygga! Till sommaren skickar vi en stor och flera små segelbåtar, delvis genom Europas kanaler, för att väcka uppmärksamhet och göra ytterligare ett blockadbrytningsförsök. Vårt fokus är Gazas unga och båtarna skänker vi till dem så att de kan lära sig segla. Värdefulla kunskaper den dag Gazas hamn öppnar!
Som vanligt har vi även böcker, musik, filmer och gåvobevis.
Beställ senast 14 dec för att få beställningen innan jul till ordinarie porto.