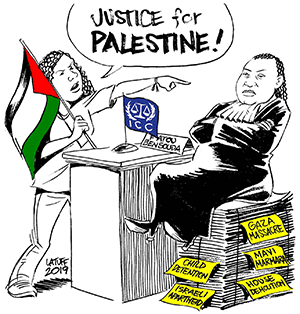 På Internationella solidaritetsdagen för Palestina 29 november deltar Ship to Gaza Sverige i en protestaktion utanför domstolen ICC i Haag!
Organisationer från flera länder samlas utanför Internationella brottmålsdomstolen i Haag för att protestera mot att åklagare Fatou Bensouda, upprepade gånger vägrat föra vidare utredningen om israeliska krigsförbrytelser och brott mot mänskligheten i samband med den blodiga attacken mot den humanitära flottiljen på väg mot Gaza 31 maj 2010 där tio människor dödades och ett femtiotal skadades.
Upprepade gånger har domargruppen i ICC underkänt åklagare Bensoudas bedömning och menat att hon inte undersökt frågan tillräckligt.
Åklagaren Fatou Bensouda har gång på gång dragit slutsatsen att frågan om attacken på Gazaflottiljen 2010 inte ska tas upp i domstolen, trots domargruppens upprepade underkännande av hennes faktaunderlag. 29 november kommer hon att presentera sitt senaste beslut i frågan.

Ship to Gaza Sverige deltar tillsammans med organisationer från flera europeiska länder i en internationell demonstration för att protestera mot åklagaren Fatou Bensouda.
Mer information »