Om någon har intresset och lite drygt två timmar över så kan man se och höra anklagelseakten på Youtube.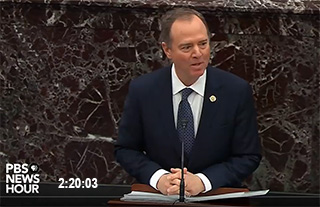 WATCH
:
Rep. Schiff's full opening argument in the Trump impeachment trial
Rep. Adam Schiff, the lead House manager, argued the case against President Donald Trump in the impeachment trial on Jan. 22, saying that the president withheld U.S. military aid in an attempt to pressure Ukraine to investigate his political rivals. Schiff's remarks kicked off the House managers' opening arguments, which will be presented in 24 hours over the course of three days.
"Guarding against a president who undertakes official acts with the corrupt motive of helping himself is at the heart of the impeachment power," Schiff said.
The House of Representatives impeached the president in December on two articles — abuse of power and obstruction of Congress. The trial will determine whether Trump is convicted of those charges and removed from office, or acquitted.