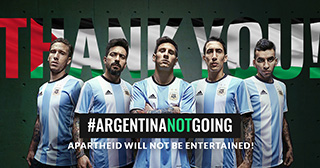 Mobilizations across the world succeed in thwarting the Israeli government's use of the match to cover up its war crimes and egregious human rights violations against Palestinians.
On Tuesday, June 5, the Argentina National Football team canceled the "friendly" match with Israel planned for Saturday, following months of BDS campaigning that kicked off in Argentina.
Football fans and Palestinian human rights supporters had urged the Argentinian team and superstar footballer Lionel Messi to cancel the match, set to take place in an Israeli stadium built on the ethnically cleansed Palestinian village, al-Maliha, in response to Israel's criminal shoot-to-kill-or-maim policy against peaceful Palestinian protesters in Gaza.
Palestinian footballer Mohammad Khalil, whose career ended after he was shot by an Israeli sniper in both legs as he peacefully protested in Gaza, also urged Argentina and Messi to cancel the match with Israel.
Läs mer »