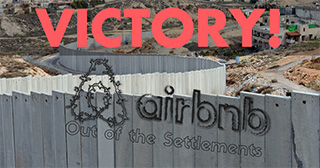 Airbnb just announced it's removing all vacation rental listings on its site that are in illegal Israeli settlements in the occupied West Bank!!!
Two years ago we helped kick-start a deluge of public criticism on Airbnb for allowing settlers to profit off Palestinian's stolen land, and dozens of groups in the #StolenHomes coalition helped pile on pressure.
Today Airbnb agreed that vacation rentals in illegal settlements contribute to existing human suffering, and they're kicking them off their platform!


https://jewishvoiceforpeace.org/